Air Conditioning
Heating & Cooling Systems for Conservatories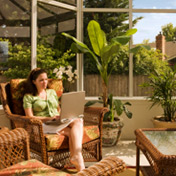 In summer it gets too hot, with temperatures often rising into the 100's.
In the winter it is freezing cold.
It's wonderful having a conservatory, it's light, bright and airy, it brings the garden into the home, it's a perfect place to relax, but having spent such a large amount of money, it comes as something of a surprise to find that your can't use your conservatory every day.
Fortunately there is an answer - ACS air conditioning - it will keep you cool in the summer and warm in the winter.